DEMO: Respect & Civility DVD
With our Respect & Civility Video DVD, you receive:
15-minute video DVD
(video available in French)
Reproducible Ten-Tips Document
(Word Format)
Quiz and Quiz Answer Key
Experiential Learning Activity
Certificate of Completion Template
Scheduling Sheet to Track your Learners
Closed Captioning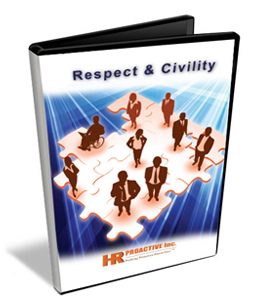 The Respect & Civility in the Workplace Video complements other HR Proactive Inc. training products that organizations would want to have in their reference library, such as Bill 168 (Ontario), Prevent Harassment/Bullying & Violence (Canada-wide), Bill 132 (Ontario), Prevent Sexual Harassment (Canada-wide), Supervisor Leadership Series Training and AODA (Ontario).
Additional Methods of Delivery
● USB Flash Drive ● MP4 ● SCORM 1.2
● Online Access with Tracking & Certificate of Completion
(Individual/Group Log-ins for one or more Compliance Programs)
For special pricing, please call 1 (888) 552-1155
HR Proactive Inc. offers several options
to train your workers quickly, easily
and cost-effectively.
HR Proactive Inc. is here to assist you with your company's training needs.
Contact us today. We can help.